Modern Nautical Décor (Without the Lobster Traps)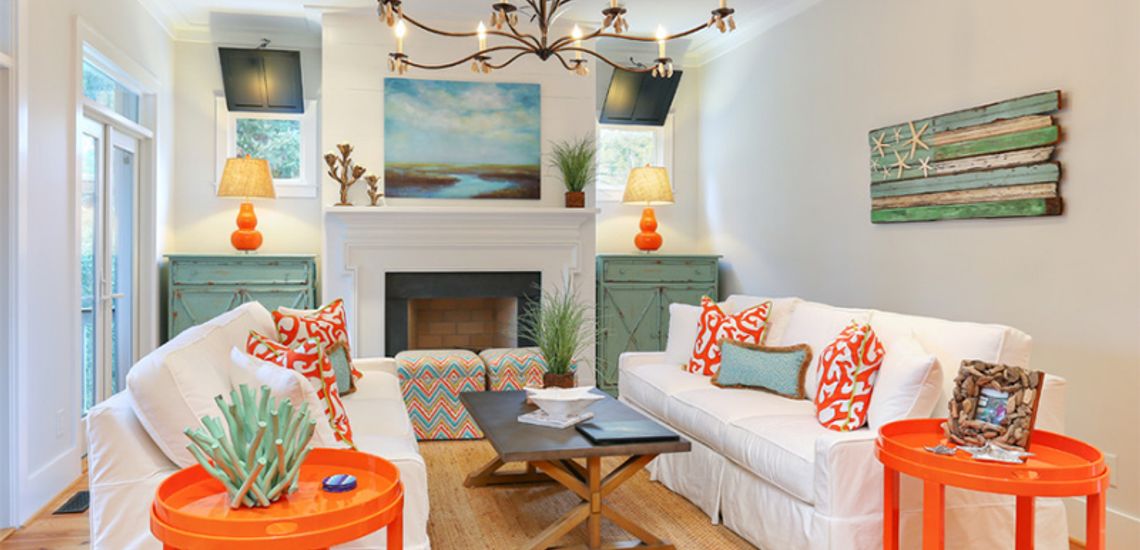 Nautical décor is breezy, fresh, and very, very easy to overdo. There's no shortage of seaside-themed items you can add to all spaces in a home—we've all seen this at our friend's cottage: the one that looks like a fishing boat collided with a Red Lobster restaurant. Of course, overdoing any trend can turn a style from whimsy to flimsy rather quickly.
Below, we're sharing some beautiful ways stylists integrate nautical charm into spaces that inspire calm, soothing, oceanside vibes rather than including seasickness.
Make it Luxe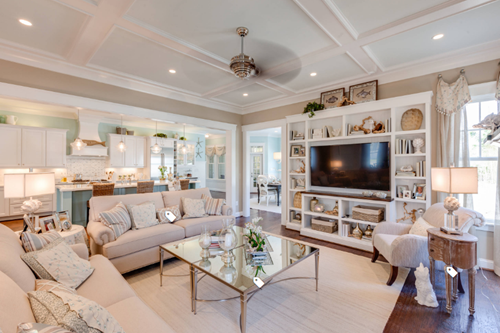 Although the colour palette is watery blue, white, and sand, there are also touches of silver and gold in this tastefully decorated home. The coffered ceiling, the square lampshades, and the crisp white trim give the space sense of elegance that we don't normally associate with the standard version of nautical. More luxury yacht than a fishing trawler, the theme is achieved here more subtly with accessories: driftwood and coral pieces in the bookcase, a pair of starfish on the kitchen wall, and a wooden whale cut-out on the range hood. Our gold coral hook,  jute and cotton basket set, and these eco-friendly resin starfish would work perfectly in this nautical-luxe space.  
Layer it with Linen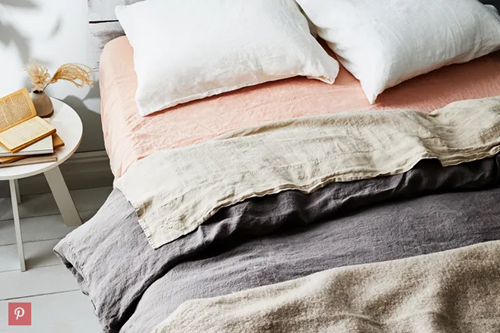 No fabric says "brunch at the beach house" quite the way linen does. Cool and casual, this soft, comfortable fabric drapes beautifully over any underlying form. A bed with linen sheets never needs to be made because it looks just as chic unmade. And it's not just for sheets: think an ecru linen napkin wrapped in braided seagrass, faded blue drapes long enough to billow in the ocean breeze or pool on a bleached-wood floor or linen-textured wallpaper in light sage-gray. Accessorize with items like these soft pink sea urchins, which echo the organic structure of natural linen.
Colour it Coral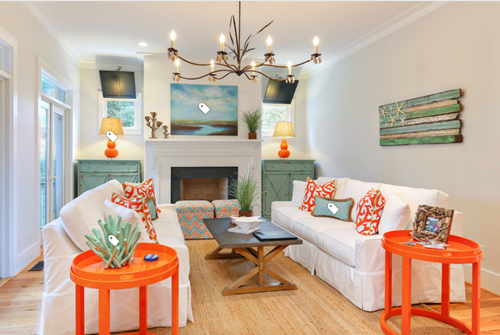 As a colour, coral ranges from a light peachy-pink to a bright orangey-red. You can use it to add splashes of colour to a more neutral water-coloured backdrop, as in this living room, or to make a significant colour statement, as with the wallpaper and linens in this bedroom and the upholstery on the sofa below. This vibrant coral piece from our Coastal and Nautical collection is a great choice to add a bold accent to an ocean-inspired space. The resin coral branch serves as a reminder of the beauty and fragility of the underwater world without removing anything from it.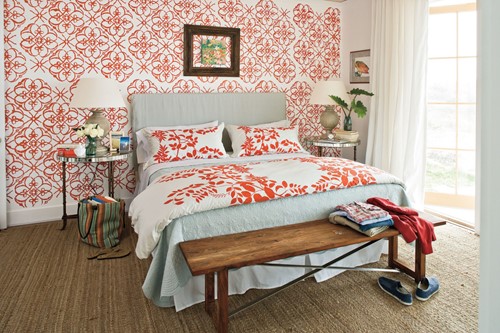 When displaying nautical décor in your retail space, let this be your reminder to play with colour!  These bright coral hues pair beautifully with the traditional blue and neutral marine tones and appeal to your customer's more playful side.
Pair it with a Complementary Style
If you'd rather save the fishnet aesthetic for your stockings, nautical can easily be combined with any number of other styles to create an eclectic space that still delivers a calming feel. Try it with minimalist, mid-century modern, boho, grand millennial, or zen-inspired décor—don't drop anchor when you could be sailing the seas of interior inspiration!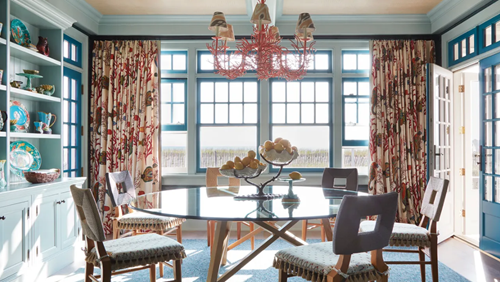 This small dining room has touches of Scandi-chic, while the refined coffered ceiling adds a bit of grandeur and refinement. Notice the coral chandelier: an exciting combination of natural and traditional elements and the playful, multicoloured dishware on the shelving to the left.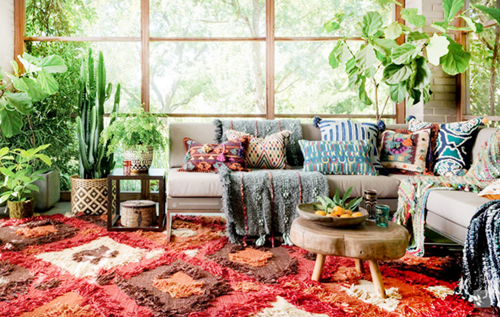 This boho-beach room has a range of corals, blues, and greens and is the perfect space for a linen pillow or spread. Imagine this hanging tealight holder providing soft twilight illumination while you settle in with some tea and let your troubles drift out to sea.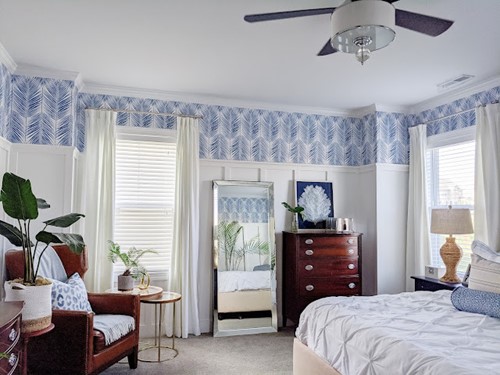 Whether you got it from your grandmother or you picked it up at a thrift store, it's easy to design around a favourite vintage piece while sticking with a coastal theme. The weathered leather chair in this bedroom looks perfectly at home in this light, airy space. The palm-frond wallpaper pattern gives the room a surprisingly traditional feel and echoes the natural patterning of the plants and materials in the room, such as woven seagrass on the lamp's base.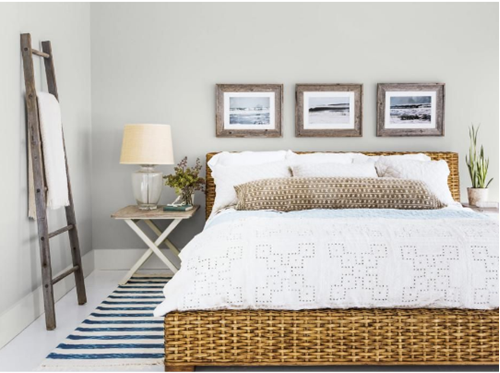 Natural elements and patterns, a simple colour palette dominated by cool whites, clean lines, and a feeling of harmony and peace can describe both zen-inspired interiors and coastal ones. This bedroom is an excellent example of the melding of the two into a space that makes you feel like you're floating on a raft in calm, warm water that's as clear as glass.
Take a Walk on the Beach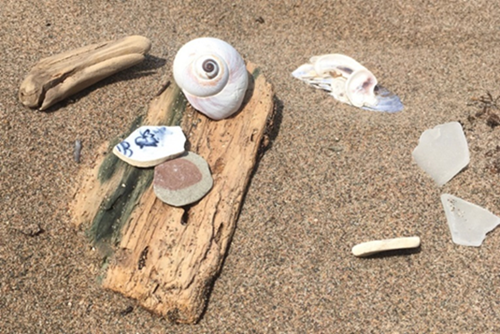 A great piece of advice when you're learning to draw is that you should look at the thing you're trying to create. That seems like a no-brainer, but a novice artist will often draw what they think something looks like instead of what it looks like. If you're looking for inspiration, there's no better place than the shore or the marina to take a good look around. Note the shades, textures, and lines in the objects around you; even the sand has dozens of distinct colours in it if you look closely.
Fibonacci spirals are features of shells that can be used in innumerable ways in décor: wallpaper design, decorative objects, and lamp bases, to name just a few.
Notice the contrasting colours and textures that are around you. The sandy beach is flowing into frothing blue tides—the smooth lines of the shells intermingled with shining tangles of weeds. As you display your nautical décor, play with contrast to achieve this same nautical harmony.
Play with Patterns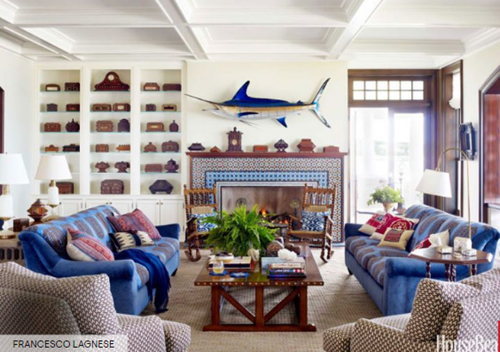 Stripes are the most common pattern used in nautically themed spaces, but there's no reason to limit yourself to it.  If the colour choices suit the overall theme, any patterns can work in a nautically inspired space. In this beautiful living room, tiles, textiles, and window treatments in varying patterns evoke a feeling of travel to a distant land, as though the resident has made many trips by sea and brought back treasured items (and a marlin!) from the places they stopped along the way. The wooden objects on the shelves similarly speak to time spent at sea and abroad, cultivating an intriguing space that seems to tell many stories.
The Takeaway: A nautical space doesn't have to be crammed with kitsch: it can be tasteful, calming, exciting, reflective, casual, or formal. It doesn't have to scream CAPE COD: it can whisper of long ocean voyages, foreign lands, the captain's suite on a luxury cruise ship, or a beachy bohemian hideaway.
When showcasing nautical décor in your retail space, take those coastal treasures to the next level by playing with textures, patterns, materials, and styles that add depth and perhaps even tell a story or two. Inspire your customers to bring the seaside home but leave the lobster trap on the boat.
Photo Credits:

Luxe living room: Stephan Alexander Homes (https://www.stephenalexanderhomes.com/show-homes/show-homes/coastal-virginia-idea-home-holly-road/)
Linens: Photo by Bobbi Lin for Food52 (https://food52.com/blog/26236-linen-furniture-trend)
Coral and green living room: Matthew Bolt Graphic Design (https://www.houzz.com/photos/kiawah-beach-house-for-gdc-beach-style-living-room-san-francisco-phvw-vp~8027852)
Coral and green bedroom: Laurey W. Glenn, Robbie Caponetto
Coral fabric swatches: Pantone Color Institute
Combining with other styles (small dining room): Design by Wesley Moon. Photography by Pernille Loof, Styled by Mieke ten Have for Architectural Digest (https://www.architecturaldigest.com/story/tour-a-whimsically-unique-new-jersey-beach-house-thats-as-cozy-as-it-is-colorful)
Boho-beach living room: Kathy Kuo Home (https://www.kathykuohome.com/blog/get-the-look-boho-beach/)
Grandmillenial bedroom: Robin Warz Interiors (https://www.findmeontheporch.com/p/sources-coastal-grandmillennial-master.html)
Zen-inspired bedroom: Zach DeSart for HGTV (https://www.hgtv.com/design/decorating/color/colors-we-love-classic-navy-blue-pictures)
Beach objects: Styling by MSB. Photography by R. S. Parker
Play with patterns: Francesco Lagnese for House Beautiful (https://www.housebeautiful.com/room-decorating/g1735/nautical-inspired-rooms/?slide=25)