The Secret World of Macramé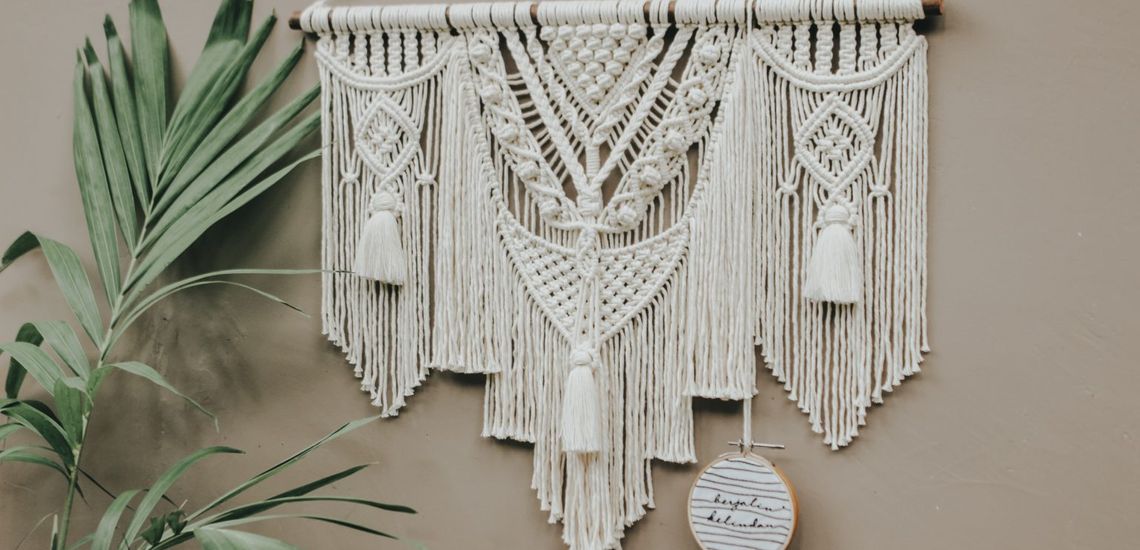 Whether you're a child of the '70s or a millennial, there's no denying that macrame textiles are back! This fine art form, which uses rope or cord to make knots (knotting) that form intricate patterns and designs, has enjoyed a new resurgence thanks to social media platforms such as Instagram and Pinterest. Macrame "fibre art" can be used to make everything from plant hangers and wall decorations to jewellery and clothing accessories, so it is perfect for hobbyists who enjoy working with their hands. Hence, what used to be a "hippie" hobby 50 years ago has now been updated and re-imagined to suit contemporary tastes and décor. 
EARLY HISTORY
The "secret" part of macramé has to do with it's long and alluring history. With origins dating back to the 13thcentury, Arabic weavers had originally used macrame-style knots "to secure loose ends of woven textiles"[1]. It is believed that the word "macramé" derives from either the Arabic word macramia, which means "striped towel", "ornamental fringe", or "embroidered veil"; or the Turkish word makrama, which translates to "napkin" or "towel".[2] These techniques were introduced to Spain (through North Africa) during the 15th century Moorish Conquest, and from there it spread to neighboring countries such as Italy, France and England.
SPREADING KNOWLEDGE
From the 1700s onward, European sailors – already masters in knot-tying – started spreading their knowledge of macramé around the world. Mariners would work on their knotting techniques to pass the time while travelling, and then barter their creations when they reached land. In this way, macramé was brought to areas as far-reaching as China and the "New World" (North & South America).
HIPPIE ART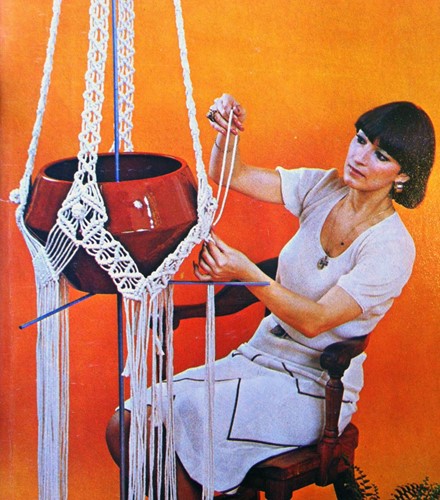 The most recent incarnation of the macramé craze was during the 1970s. As a symbol of a Bohemian lifestyle, the macramé of this period was wild and uninhibited, unlike the delicate and "tasteful" designs of times past (think Victorian era England). Jute and cotton twine were popular materials for this new hippie art obsession, and they could be seen on everything from clothing to shoes to jean shorts. Technological advances in the 1970s allowed for softer and stronger cotton-blend cords, which only fueled the craze even further. 
MODERN DAY
As with most cyclical trends, today's macramé products mirror the designs of the past, but with a cleaner and more pared-down look. By leaving the large-scale size and gaudy palette of the 70s behind, present-day macramé uses a more neutral range of colours and is found mostly as tasteful wall-hangings and natural looking plant-hangers. Embellishments such as wooden or glass beads can still be found in contemporary pieces.
For anyone interested in making their own macramé, there are many online resources for patterns, supplies, and tutorials, so the sky is the limit! This link here is great for learning basic beginner knots, and this link here is great for downloading free patterns. So, what are you waiting for? Now that you know the secret world of macramé , go and get "macra-making" now!
END NOTES
[1] Macramé-king a Comeback, Topeka & Shawnee County Public Library, 12 July 2019, Julie Velez
[2] Wikipedia, Macramé, 29 January 2022
Image Credits
Image 1: Photo by Annisa Ica on Unsplash
Image 2: Antique Sailor's Macrame Natural colored Purse Late 1800's-Early 1900's made by a sailor, sweetie2sweetie, etsy.com
Image 3: Macramé is the knotty trend millennials Instagrammed back from the dead, Timeline.com, 19 Sept 2017
Image 4: ivan_kislitsin via Shutterstock